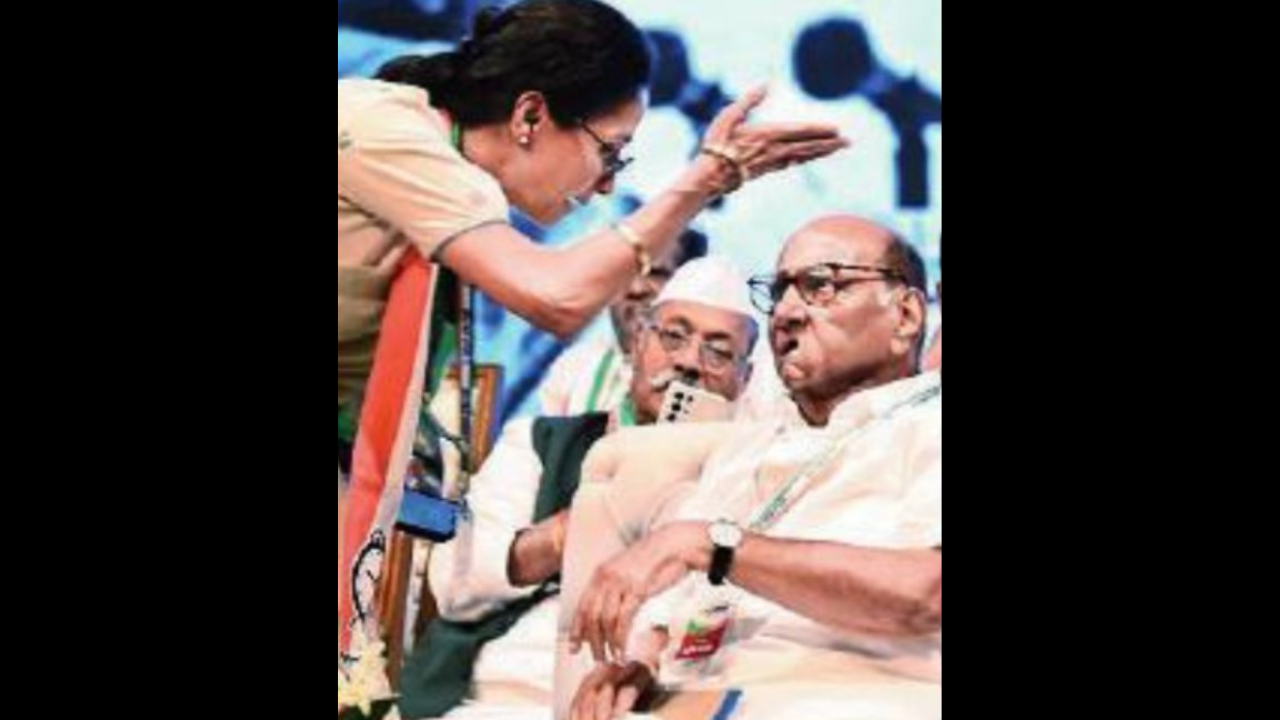 PUNE/MUMBAI:
Supriya Sule
, working president of NCP, on Thursday said that as Ajit Pawar's cousin, she wanted all his wishes to be fulfilled. Her comment came a day after Ajit Pawar expressed his desire to be f reed of his responsibility as leader of opposition and said he would prefer a post in the NCP organization.
Sule said, "I am very happy to know that dada (Ajit Pawar) wants to wor k for the organisation. It will send a positive message to the cadre that asenior leader wants to work for the party's growth. For us, NCP is one family and I want all its m embers to be happy. If they are satisfied, it feels good to work with them," Sule said in an interaction with reporters in Pune.
At an event in Mumbai tocelebrate NCP's 24th foundation day on Wednesday, Ajit said in the presence of party president
Sharad Pawar
that he did not want to be leader of opposition but had taken up the post when the party's MLAs had demanded it.
Meanwhile, pressure is building on Sharad Pawar to sack state NCP president Jayant Patil, who has completedfive years in office against the normal tenure of three years. Ajit Pawar ha d by making his statement obliquely pointed to the need for the party to have a new state president.
Jayant Patil dodged the media on Thursday, saying he was busy with organizational work. Howeve r, Sule said in Pune, "A senior leader like Jayant Patil has been working for the party for a long time. Like him, several senior leaders have contributed to the party's gr owth. It is always better for the party to get guidance from senior leaders. "
Unexpectedly, ex-dy CM Chhagan Bhujbal threw his hat into the ring for the post of state NCP chief on Thursday. "Earlie r, I was head of state NCP, but only for four months. In view of my vast experience, I may be considered again," he said. Bhujbal, who has positioned himself as champion of the cause of OBCs, said Sharad Pawar must give an opportunity to a leader of the OBC community to lead the party in the state. "I feel either an OBC or a member of any other such community should be given an opportunity to lead the party.
The NCP has several capable OBC leaders who can give a new direction to it. We must follow the Congress policy. Congress has appointed a veteran OBC leader to lead the party. BJP's state unit too is headed by an OBC leader," Bhujbal said.
As far as NCP is concerned, Bhujbal said prominent OBC leaders including Sunil Tatkare, Jeetendra Awhad and Dhananjay Munde could be considered for the post of state NCP president. "If they are unwilling, I am prepared to take the responsibility, I have huge experien ce and organizational skills," he said.