NEW DELHI:
Chhattisgarh
minister T S Singh Deo has been named the state's deputy chief minister with the ruling Congress on Wednesday clearing his appointment months ahead of the assembly elections.
According to a party statement, Congress president Mallikarjun Kharge approved the proposal for the appointmen.
Assembly elections in the state are due later this year.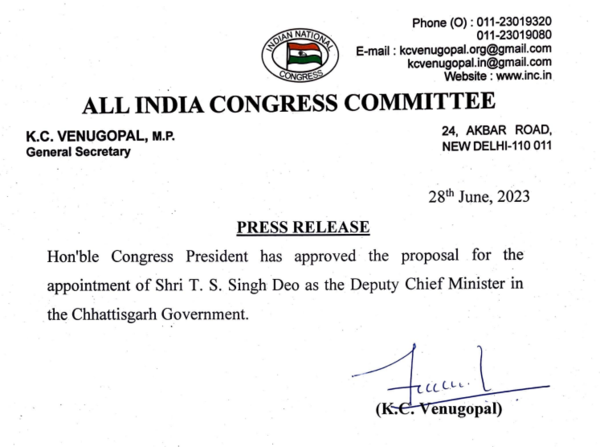 Singh Deo and Chief Minister Bhupesh Baghel have been at loggerheads since the party came to power in the state in 2018.
Earlier in the day, top leaders of the Congress discussed the party's strategy and poll preparedness in Chhattisgarh.
Kharge, former party chief Rahul Gandhi, Baghel, besides the party's in-charge for the state Kumari Selja and general secretary K C Venugopal were among the leaders who attended the meeting at the party headquarters in Delhi.
Chairing the meeting, Kharge said party members will work together to keep bringing change in the lives of the people of Chhattisgarh.
"'Garhbo Nava Chhattisgarh' is not just a slogan for us, it is a goal for the state's progress and social justice. The people of Chhattisgarh and their unwavering faith in the Congress party will continue to propel the continuous stream of development," the party chief said in a tweet in Hindi.
(With inputs from agencies)