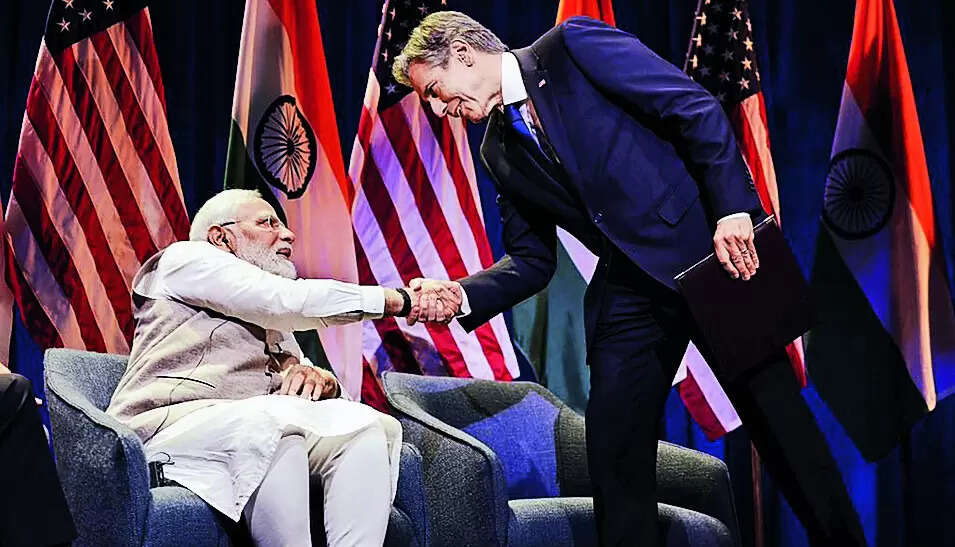 NEW DELHI: As he wrapped up his visit to the US, Prime Minister Narendra Modi held a series of meetings with top American business leaders, including Google CEO Sundar Pichai who said his company will set up its global fintech operation centre at GIFT City in Gujarat.
Modi, who addressed a gathering of around 100 professionals at the John F. Kennedy Centre in Washington D.C., also had a meeting with other CEOs such as Boeing president and CEO David L. Calhoun, Amazon president and CEO Andrew R. Jassy, Microsoft CEO Satya Nadella, Apple CEO
Tim Cook
, OpenAI CEO Sam Altman, and AMD CEO Lisa Su.
Pichai said Google continues to invest in India though its $10 billion India Digitisation Fund. "Today we are announcing the opening of our global fintech operations centre in GIFT City, Gujarat. It will cement India's fintech leadership, thanks to UPI, and Aadhaar. We are going to build on that foundation and take it globally," Pichai said.
Tapan Ray, MD & Group CEO of GIFT City said Google's decision is a testament to India's growing prominence in the fintech landscape. "The strategic announcement is a win-win proposition."
Pichai said it is exciting to see the progress that India has made, particularly around the vision of Digital India and the economic opportunity. "I met the PM in December, and we continued our conversation. We shared that Google is investing USD 10 billion in the India digitisation fund and we are continuing to invest through that, including in companies working on artificial intelligence. As part of that, we have a 100-language initiative. We are bringing bot to more Indian languages very soon," Pichai said.
The event was organized by the US-India Strategic Partnership Forum (USISPF). American Secretary of State Antony Blinken was also present on the occasion.
Modi highlighted the economic transformation currently underway in India and the strides being made in various sectors. Stressing that "This is the moment", the PM invited the professionals to forge partnerships with India.
The meeting between Modi and Amazon's Jassy saw the two hold discussions around the area of e-commerce. "They also discussed the potential of further collaboration with Amazon in the logistics sector in India," an official statement said, adding that the PM welcomed Amazon's initiative of promoting digitisation of MSMEs in India.
Boeing's Calhoun and Modi discussed the company's greater presence in the aviation sector in India, including in the domain of Maintenance, Repair and Overhaul (MRO) of aircrafts. The PM invited Boeing to invest in the space manufacturing sector in India.