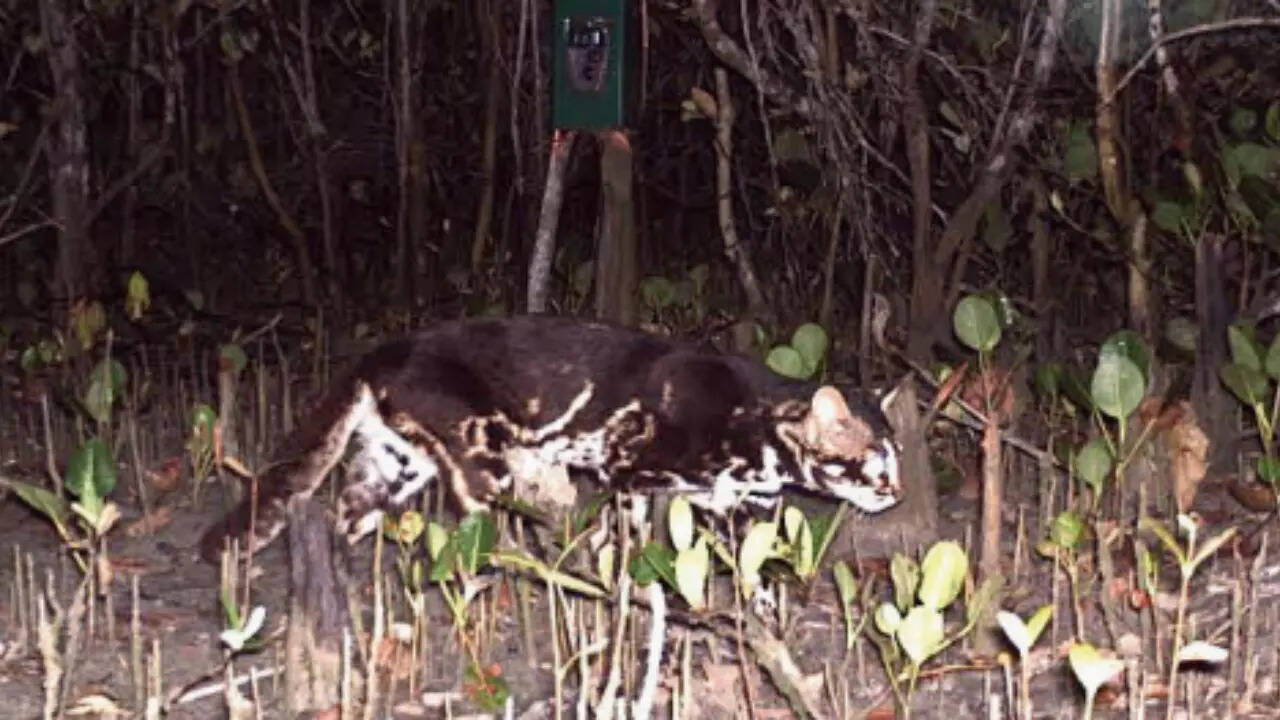 Project Tiger drove most of the research in wildlife for the last few decades, but other creatures and topics are now getting much-needed attention. Experts feel the presence of multiple NGOs and institutions should lead to more diverse research work and look at conservation of habitats rather than only umbrella species
The tiger in southern
West Bengal
's Lalgarh may have been poached, but in its death it had left some key findings. A DNA analysis of the tiger's tissue samples, performed 1,000 kilometres away in Bengaluru's National Centre for Biological Sciences, revealed that it had probably travelled from the Central Indian landscape, renewing hope about possible tiger migration routes between Central India and Bengal. Similarly, a camera trap exercise taken up more than a decade ago by WWF-India in the Indian Sundarbans to track tiger numbers captured a rare melanistic leopard cat, probably the first in India.
Research work over the years — even though focussed on tigers — has brought to light the need to widen their ambit and look beyond tigers to focus on other issues. A central institute like Wildlife Institute of India (
WII
), Dehradun, has been instrumental in bringing out the tiger and leopard estimation reports once every four years. However, the widening ambit of research work has made forest departments look beyond and work with other NGOs, research organisations and even grass-roots bodies to focus on issues such as tiger migration routes, elephant corridors, lesser-known species and even insects, to get an overall idea of the health of the ecosystem.
From Wildlife Trust of India's (WTI) work on India's elephant corridors, and WWF-India's projects on central India tiger corridors, to Aaranyak's research on manelephant conflict in north-east India — detailed field work has redefined the approach towards wildlife conservation in India, shifting the focus also to habitat management. "After half a century of concerted tiger conservation, it is time to look beyond tigers. We will have to find ways to accommodate tigers outside the designated protected areas and manage habitats. All of this will require sustained multipronged and multi-disciplinary research and no one institute has or will have the capacity," said Anurag Danda, who leads the Sundarbans chapter of WWF-India, credited with conducting the first successful camera trap exercise in the Indian Sundarbans in 2012.
Sandeep Kumar Tiwari, director and chief of conservation at Wildlife Trust of India (WTI), says a large number of institutes or organisations are working on diverse issues related with forest and wildlife. "It's always good if most of them are involved, depending on the issues and expertise. This brings in diversity. A multi-agency approach will always be very productive and efficient. Loading a single agency with all work may impact quality and hinder new ideas," he said.
Arjan Basu Roy of Nature Mates, a Kolkata-based NGO that's working on butterflies in eastern and north-eastern India, said good research work is scattered across the country. "There are very few working truly for wildlife science. Also, only a few institutes, including WII, have the set-up to conduct such research. But, we must keep in mind that too much dependence on a single agency has a chance that things don't get represented in the best way," he said, adding research work should not be a monopoly, else new approaches will be missed.
Echoing him, Jimmy Borah, senior manager (legal and advocacy), Aaranyak, said for any research related works in forest areas, the agency needs correct resources, biologists, finance and proper equipment. "In the current scenario, institutes like WII, and organizations like WWF, WCS, Aaranyak etc have the capacity to conduct such research works. But, sampling large areas becomes a herculean task and therefore collaborative efforts are always required. There is huge scope for expanding research works to include multiple institutions," Borah added.
On looking beyond tigers, Basu Roy said research works are nowadays happening on subjects like invertebrates and plants too. "We are doing extensive studies on butterflies in Bihar, Nagaland, Tripura and Jharkhand to understand their climatic conditions and different habitats and also their dependence on plants. When we started in 2003-04, butterfly research had very few takers in India," he added.
"We need to look beyond tigers for the conservation of other wildlife, and this means more resources for other species and non-tiger habitats. For example, the annual budget of Project Elephant is much smaller than Project Tiger, although the challenges for conservation of elephants are equally great. Many key taxa and habitats are being neglected," said Tiwari of WTI, which has done work on Nagzira-Navegaon corridor and is currently working in Bandhavgarh-Sanjay landscape for both tigers and elephants.
According to Danda, research on habitat management is on the anvil in Indian Sundarbans. "This will help address how to accommodate tigers in the Sundarbans in the light of reduced landmass due to erosion and submergence. Research work is also underway for Ganges river dolphin conservation," added Danda.
Research on tigers, large carnivores and other charismatic species also helps collect data on other species in the same forests. But, refocusing on lesser-known species, adopting best practices in socioecological studies, expanding the scope of interdisciplinary work, and enhancing synergy between research groups are ways to refocus efforts and look beyond tigers," said Borah, who was involved in monitoring the corridors of Kanha-Pench, Pench-Satpura and Kanha-Tadoba with WWF-India.
On being asked if wildlife research is restricted to a single agency like WII, wildlife biologist and former dean of the institute YV Jhala said, "Even WII needs to work hard to get permission for doing such research work. It is a real challenge, and needs to change."
Jhala also believes that tiger doesn't hog the limelight in terms of research work but may be in terms of funds. "It's because tiger is the umbrella species," he said. The experts, however, are on the same page as far as involving youngsters is concerned. "Youngsters now are much more prepared. But, at times, the connect with nature is missing as we are fast losing our urban wildlife," said Basu Roy. "There's no dearth of interested youngsters but of opportunity and guidance," said Danda.
Tiwari believes, "These days a large number of institutes and NGOs are working on issues such as habitat loss, climate change impact and man-animal conflict, and students have ample opportunities to work and contribute to research."