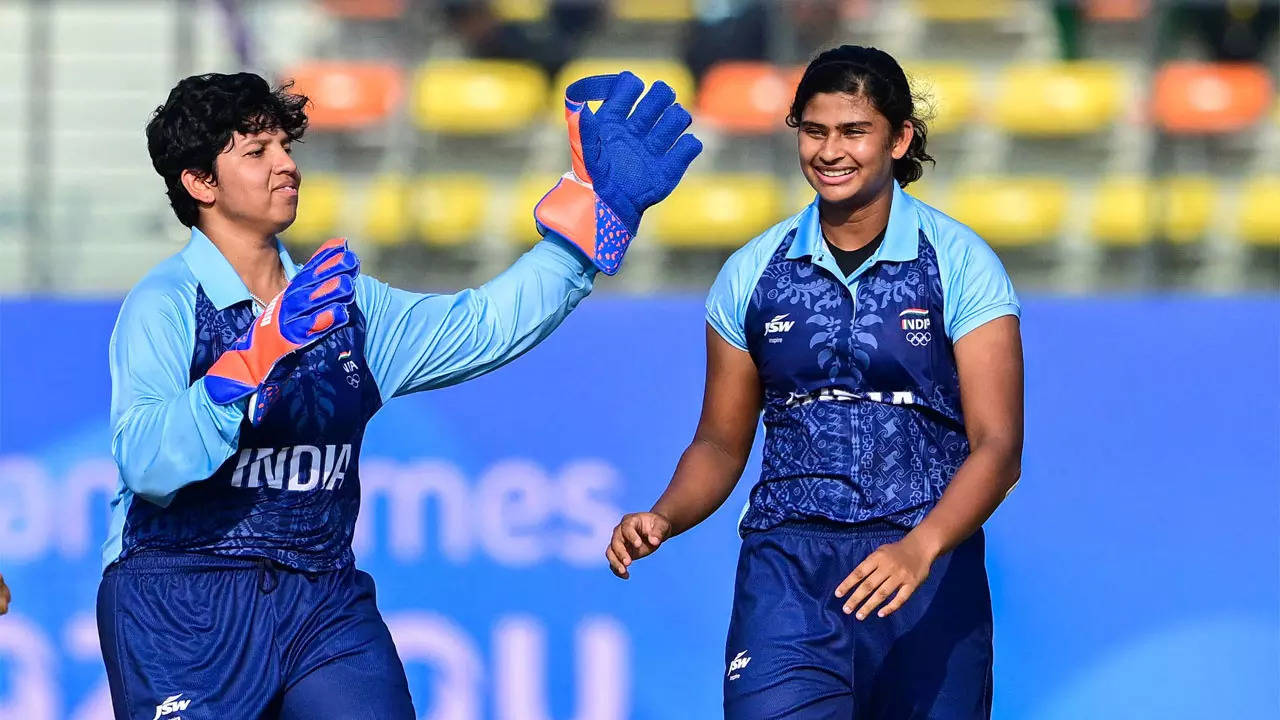 HANGZHOU: Titas Sadhu must be believing in pleasant coincidences.
Else, how could she logically explain that two of the most defining spells in her short but eventful career read almost eerily similar.
It was 4-0-6-2 in the ICC U-19 World Cupfinal against England and on Monday, playing only her second senior international match, her figures were 4-0-6-3 against Sri Lanka.A three-over first spell that literally ensured the gold medal for Indian women's cricket team.
"We all had a clear plan of what we had to do. Obviously, we got a good momentum in the first over itself. We had discussed during the innings break that we will keep calm and stick to what we had decided," said Titas, who hails from Hooghly district's suburban Chinsurah, where she had a sporty father Ranadeep, who encouraged her to take up every sport possible.
Father being a decent state-level athlete, Titas had taken the sport like fish to water and also at the same time making a splash at the pool.
She got 93 percent marks in her state class Xth board exams but cricketing commitments prevented her from appearing for the plus two during the next two years.
Cricket rather happened accidentally as she would keep scores for her ancestral club Rajendra Smriti Sangha, near Hooghly Mohsin College in Chinsurah.
One fine morning, when her club side fell short of a net bowler, they called up Titas. Since then, she has never looked back, even dropping out of school to pursue the sport.
The 18-year-old right-arm medium pacer from Bengal was delighted to win the gold for the country in the continental showpiece.
"It was a great opportunity we got this time, and the fact that we were able to grab that opportunity, I'm very glad and grateful," Titas said.
On the day, the bounce that Titas extracted off the surface was there for everyone to see and it was something that his Bengal women's team coach Shib Shankar Paul realised.
"I remember one of my former Bengal teammates Priyankar Mukherjee called me few years back. He said, 'Maco (his nickname), there is girl I coach, she is nearly 5 feet 9 inch tall and is quick for a 16-year-old. Why don't you check her out for senior Bengal team'," Paul recollected on the day.
"When I first saw her at the Bengal nets, I was surprised that she was way quicker for her age. Had a physique that you rarely find in a pace bowler from Bengal, Jhulan (Goswami) obviously was an exception. She bowled good outswing and had good grasping power. She was a good student and fared well in her 10th boards. I didn't waste time to convince erstwhile CAB secretaries Snehasish Ganguly and Debu Das to allow me to take her in senior Bengal team," said Paul, pride in his voice palpable.
So did he talk to Titas today after the final?
"Yes, she and Richa (Ghosh) both called up. Titas said, 'Thank You sir for all the support'."