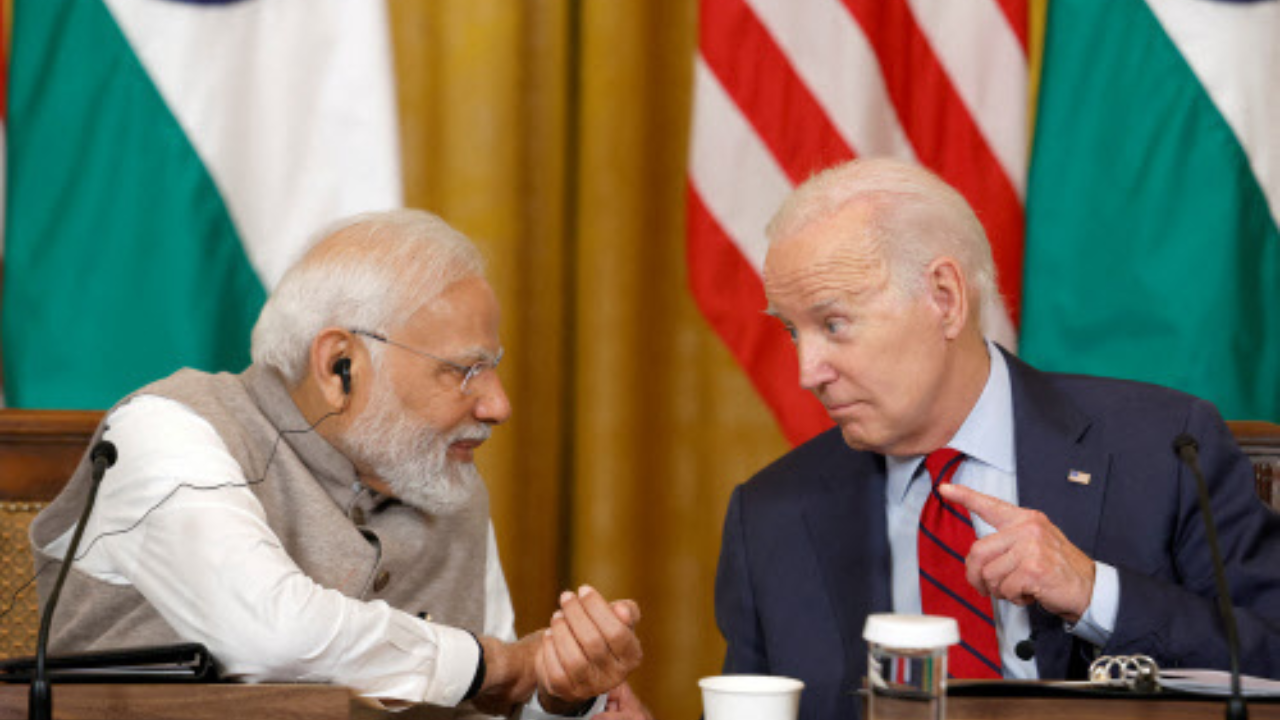 NEW DELHI: The Indo-US joint statement issued after talks between PM Narendra Modi and President Joe Biden on Thursday night emphasized on deepening relations in
space
, nuclear energy, AI, semiconductor, science and technology, and affirmed that technology will play the defining role in deepening partnership between the two big democracies.
Modi and Biden hailed the inauguration of the Initiative on Critical and Emerging Technology (iCET) in January 2023 as a "major milestone in India-US relations" and recommitted the "US and India to fostering an open, accessible and secure technology ecosystem, based on mutual confidence and trust", the joint statement said.
The PM and the US President also set a course to reach new frontiers across all sectors of space cooperation.
They welcomed the decision of Nasa and Isro to develop a strategic framework for human spaceflight cooperation by the end of 2023 and also Nasa's announcement to provide advanced training to Indian astronauts at the Johnson Space Center in Houston in Texas with a goal of mounting a joint effort to the International Space Station in 2024. President Biden deeply appreciated India's signing of the Artemis Accords, a US-led initiative to launch a manned mission to the Moon and beyond, which advance a common vision of space exploration for the benefit of all humankind.
The leaders also celebrated the delivery of the world's most expensive earth observation satellite NASA-ISRO Synthetic Aperture Radar (NISAR) satellite to Isro's UR Rao Satellite Centre in Bengaluru and looked forward to its launch from Sriharikota in 2024. Welcoming India's Space Policy-2023, Modi and Biden called for enhanced commercial collaboration between US and Indian private sectors in the entire value chain of the space economy and to address export controls and facilitate technology transfer.
The PM and the US President hailed deepening of bilateral cooperation on cutting-edge scientific infrastructure, including a $140 million in-kind contribution from India's Department of Atomic Energy (DAE) to the US Department of Energy's (DOE's) Fermi National Laboratory toward collaborative development of the Proton Improvement Plan-II Accelerator, for the long baseline neutrino facility — the first and largest international research facility on US soil. They also welcomed the commencement of construction of a LIGO in India.
As per the statement, Modi and Biden welcomed the signing of an MoU on semiconductor supply chain and innovation partnership as a significant step in the coordination of our countries' semiconductor incentive programs. "This will promote commercial opportunities, research, talent, and skill development," it said.
The leaders also lauded an announcement by Micron Technology to invest up to $825 million to build a new semiconductor assembly and test facility in Gujarat with support from the Indian government. The combined investment valued at $2.75 billion would create up to 5,000 new direct and 15,000 community jobs opportunities in the next five years.
The leaders also welcomed Lam Research's proposal to train 60,000 Indian engineers through its semiverse solution virtual fabrication platform to accelerate India's semiconductor education and workforce development goals, and an announcement by Applied Materials, to invest $400 million to establish a collaborative engineering center in India.
The statement also talked about the establishment of a joint Indo-US Quantum Coordination Mechanism to facilitate collaboration among industry, academia, and government.
The leaders also lauded the launch of a $2 million grant program under the India-US Science and Technology Endowment fund for the joint development and commercialisation of Artificial Intelligence (AI) and quantum technologies, and encouraged public-private collaborations to develop high-performance computing (HPC) facilities in India.
President Biden also reiterated his government's commitment to work with the US Congress to lower barriers to American exports to India of HPC technology and source code.
Both leaders also welcomed 35 innovative joint research collaborations in emerging technologies funded by the US National Science Foundation (NSF) and the Indian Department of Science and Technology (DST). Under a new implementation arrangement between NSF and DST, both sides will fund joint research projects in computer and information science and engineering, cyber physical systems, and secure and trustworthy cyberspace.