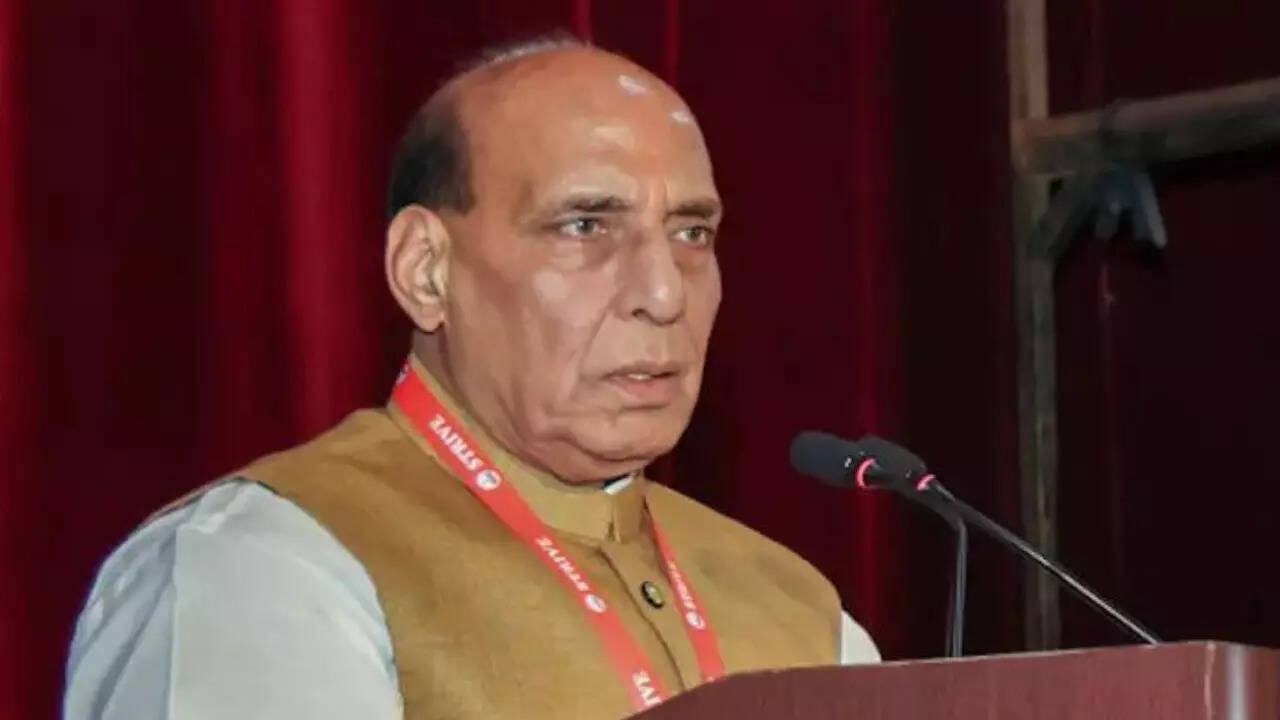 LUCKNOW (Uttar Pradesh): Defence minister
Rajnath Singh
on Sunday recalled the struggle from the time of emergency and said that he was thrown into jail at the age of 23 for eighteen months.
While addressing the students at an event in Lucknow, Singh said that he had always been interested in politics from the times of his student life.
"I was interested in politics since my student life and then I joined the Rashtriya Swayamsevak Sangh (RSS). Gradually I kept moving towards politics," Rajnath Singh recalled.
"I was sent to jail at the age of 23 during the time of emergency," he informed while addressing the IAS students in Lucknow.
He also took a jibe and said, "How decent of a man I must have been that I was thrown in jail during the emergency."
He further added that the nation was going through a war to restore democracy.
"When the emergency was imposed and I also joined the agitation. I was in jail for 18 months and forgot the IAS. As soon as I came out of jail, I learned that I got a ticket for a member of parliament at the age of 25," he recalled.
Speaking on the role of the Indian Administrative Service (IAS) officers, Singh said, "The day the political leaders of this country will learn to say no and bureaucrats will learn to say yes, this country will start flourishing from that day. A crisis of credibility is developing in the politics of India due to this (politicians saying yes to everything, even to things they can't do, due to which the public is losing faith in the politicians). There should not be a difference between words and deeds."
Prime Minister
Narendra Modi
also recalled the time of emergency on Sunday during the 102nd episode of "Mann Ki Baat" and called it a "dark chapter" in the history of India.
The PM said that the 1975 Emergency, imposed by the then Indira Gandhi-led Central government was a "dark period" in Indian history adding that millions opposed it with all their might.
"India is the mother of democracy. We consider our democratic ideals as paramount, we consider our Constitution as Supreme… therefore, we can never forget June the 25th. This is the very day when Emergency was imposed on our country. It was a dark period in the history of India. Lakhs of people opposed the emergency with full might. Many books have been written on these atrocities; the punishment meted out by the police and administration. The supporters of democracy were tortured so much during that time that even today, their mind shudders," PM Modi said during the 102nd episode of his monthly radio address 'Mann Ki Baat'.
"Today when we are celebrating the Azadi Ka Amrit Mahotsav we must also have a glance at such crimes which endanger the freedom of the country. This will make it easier for today's young generation to understand the meaning and significance of democracy," PM Modi added.