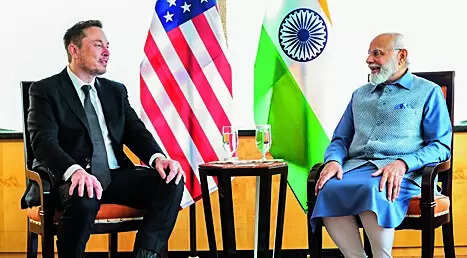 MUMBAI: Days after
Tesla
chief Elon Musk spoke about his plans to enter India during a meeting with Prime Minister
Narendra Modi
, Mercedes-Benz – one of the biggest rivals of the American electric carmaker – said its entry would help grow the luxury market, however, cautioning there should not be any exclusive and special concessions thrown in for getting the investments.
Mercedes, which has been in India for the last 28 years and has a factory outside Pune, said that "fair spirit" should be followed even as the Indian government tries hard to make Musk commit investments.
"There should be a level-playing field. As long as the concessions are uniform for all the players and are applied equally to everyone, it should be fine," Santosh Iyer, managing director and chief executive officer of Mercedes, told TOI here.
Mercedes, which brought back the SL55 roadster to India at a price of Rs 2.35 crore (ex-showroom, pan India), assembles most of its cars at Pune, including electric models such as the EQS saloon.
Tesla, which sent a team to India to talk to government officials in May after initially giving up its plans last year, has been asking for concessions on import duty for bringing its cars to the market.
Musk has often expressed frustration at the "challenges" and the level of import duty in India, and said these are factors that have kept Tesla away from the market. "We are hopeful that there will be at least a temporary tariff relief for electric vehicles. That would be much appreciated … If Tesla is able to succeed with imported vehicles, then a factory in India is quite likely," he had said previously.
India currently imposes 100% duty on fully imported cars with CIF (cost, insurance and freight) value more than $40,000 and 60% on those costing less than the amount. Those manufactured locally attract a GST of only 5%.
Things may change for Musk after his meeting with PM Modi in New York on Tuesday. The PM assured him of support and asked Musk to look at investments ranging from electric cars to solar power and battery packs, and Starlink satellite internet.
Musk said after the meeting on Tuesday, "He (Modi) really cares about India because he's pushing us to make significant investments, which is something we intend to do. I am confident that Tesla will be in India and will do so as soon as humanly possible."
But companies who have already invested in India — such as German Mercedes and local Tata Motors and Mahindra & Mahindra – are against any special concessions being accorded to Tesla. "Any exemption given out to a single player will not be in fair spirit," Mercedes' Iyer said.