By
Balwinder Singh Sandhu
There was a lot of fun that we had as a team during that campaign. With characters like Sandeep Patil and Kirti Azad, there was a lot of leg-pulling, fooling around, which meant that the team atmosphere was relaxed. I would give credit to our seniors in that team — Sunil (Gavaskar), (Syed) Kirmani, Dilip Vengsarkar and Mohinder Amarnath — for not making the final into too big an occasion.It really helped reduce the pressure on us youngsters. They didn't allow that final to become a big game.
Before the final, the atmosphere was like: 'We have done well so far, now it's just one more match. Let's go out there and enjoy our
cricket
.' Over-planning did not exist. This also helped the youngsters like me to relax. When you come into the final, every player wants to win the match. However, if there's too much 'lecture-baazi' (sermonizing), the whole energy is focused on what we should not do, instead of what we should do to win the final. By talking too much about the importance of the final and of winning that game, you can turn the final into a demon.It helped that things were kept simple. There was so much leg-puling in the team. Kapil's one-liners and comic timing were tremendous. However, we never used to run down the other. 'We are not laughing at you, we are laughing with you,' was our slogan. Our bonding was terrific.
Kapil's 175 against Zimbabwe was the turning point for us. The pitch was helping Zimbabwe's seamers, but he brought us back into the game by playing an innings of a lifetime. The best part of his knock was that he played all cricketing shots, except one top-edged six. On a seaming track, it's one of the greatest innings that I've seen in the game.
I had castled Gordon Greenidge with a similar ball in the
West Indies
series just before the World Cup. Both deliveries were about the same line and length. He had tried to punch it off the backfoot to cover-point, but was bowled. At Lord's, on a seaming track, I deceived him. He thought it was an outswinger, but it actually swung in. He made that ball much bigger by leaving it and getting out.
The stage, the batsman so big, and since the ball hit the offstump, it became so big. If he had left that ball and it wouldn't have hit his off-stump, it wouldn't have become so big.
That innings of Yashpal Sharma in the opening game against West Indies was outstanding. I thought the media didn't give him enough credit for it. In our team, though, we knew its importance. Mohinder, Srikanth, I, Kiri, and of course, Kapil got credit for what we did in that World Cup, but Yashpal was the unsung hero. He was a complete team man.
(As told to Gaurav Gupta)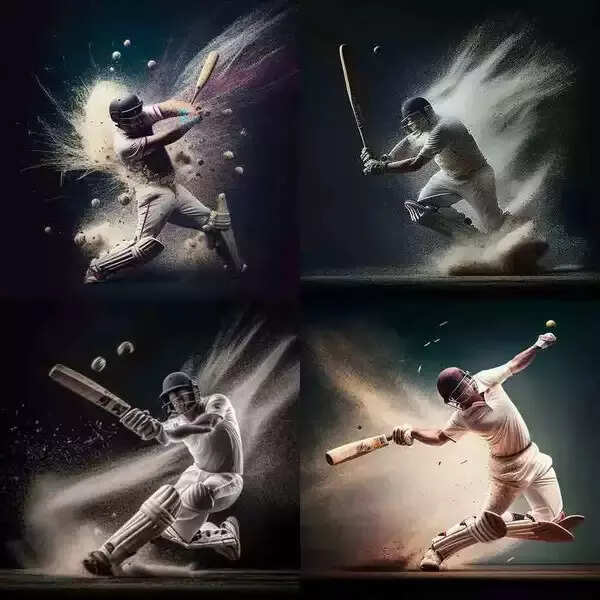 (AI image)